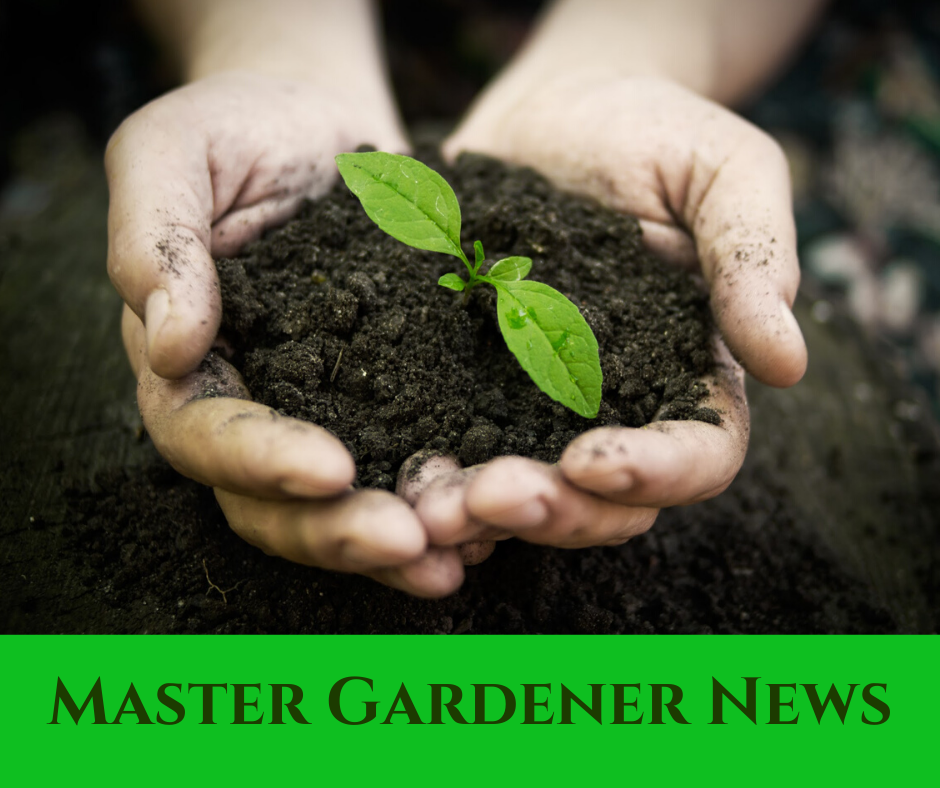 It's vacation time and patio season! We're so glad that everyone is doing their part, taking precautions, and getting vaccinated. Thanks to you we can enjoy our summer seeing our friends and family again!


In terms of our gardens, the summer heat and the humidity are making them full and lush, but also bringing some unique garden challenges.


What's happening in our gardens this month:
DIGGING GARLIC - As the leaves start turning brown, it's time to dig. Here's what you need to know about harvesting, and storing. Tip - save your biggest, best-quality cloves to plant later this fall!
PLANTING LATE-SEASON CROPS - As space opens up in the garden after pulling garlic or removing a spent patch of beans, it's time to pop in some more seeds. Consider adding short-season veggies such as lettuces or daikon radishes. Or better yet, why not start some cold-season crops such as spinach, kale, chard, turnips, parsley, or carrots? Here's Amy's video with great tips on planting now for the fall and winter harvest.
HARVESTING AND PRESERVING - We're making pickles this month and here are some ideas - 25 Best Pickle Recipes. The beans have been a terrific crop so we're popping our extras into the freezer for winter eating. You might want to save some seeds for next year or plan to buy a new variety next spring - Bean varieties to grow in Ontario.
TRELLISING - Vine plants such as squash and zucchini are trying to take over! We like to elevate vines to keep them from monopolizing the space. Any sturdy rack or trellis does the job.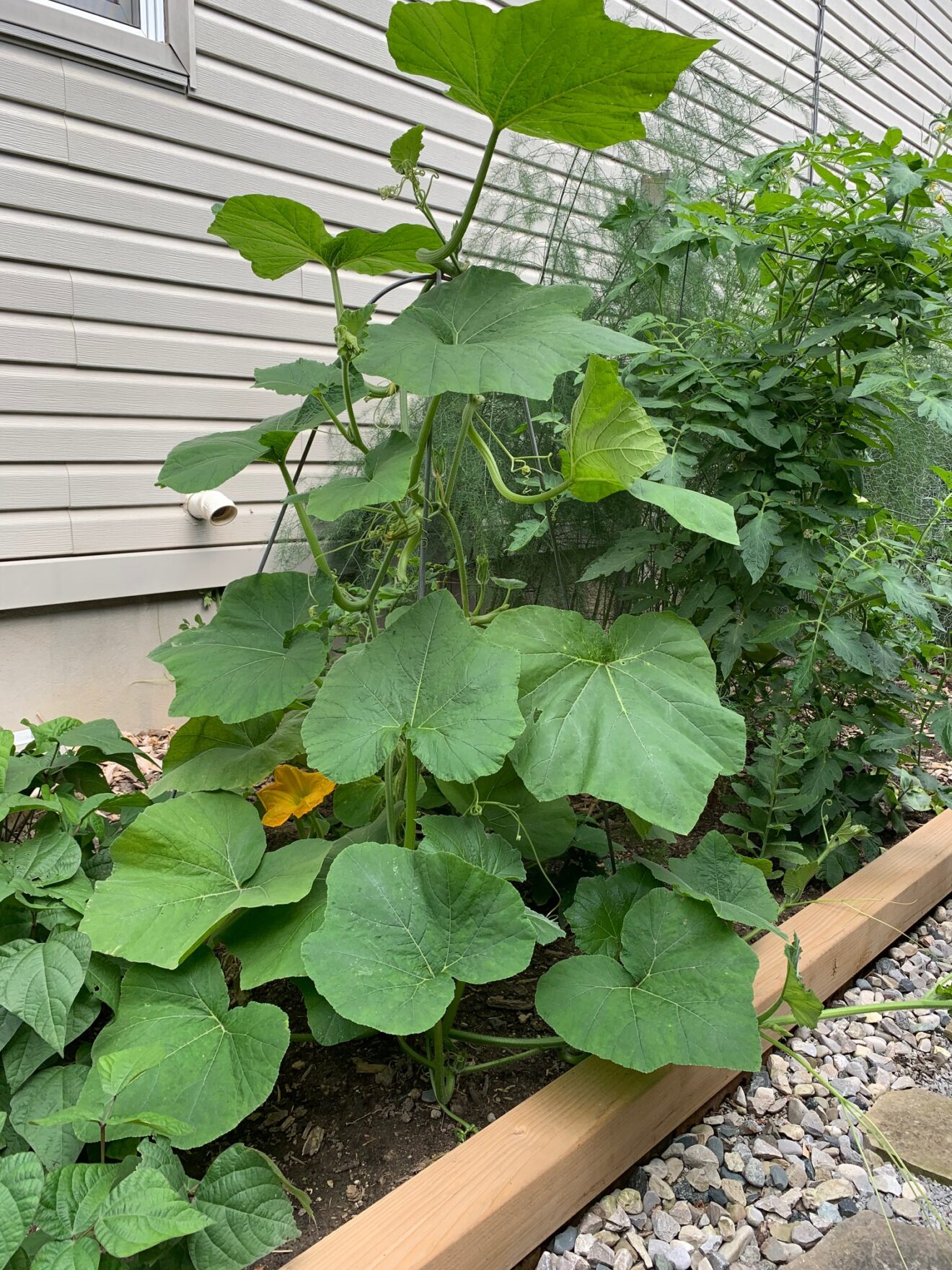 DEADHEADING ANNUALS AND SPRUCING UP CONTAINERS

- by d

eadheading spent flowers on annuals such as zinnia, petunia, cosmos, cornflower, calendula, you encourage them to bloom again, right up until fall frost. The more you cut, the more they bloom. We also

do monthly fertilization of our containers to keep them in tip-top shape.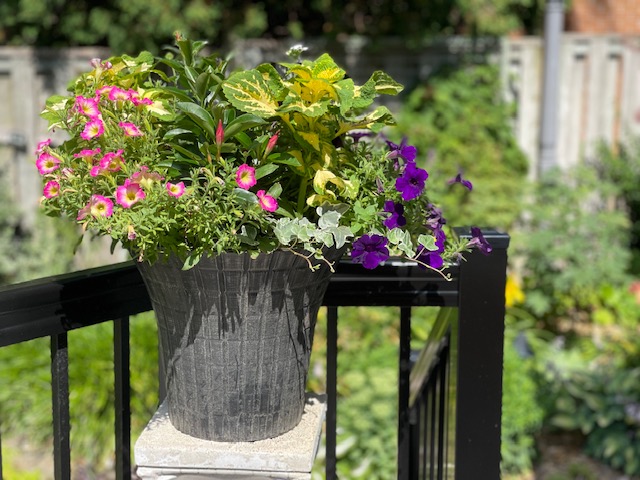 DEALING WITH PESTS AND DISEASE
Our best advice is to do a daily walk-about to monitor the garden and catch potential problems early. See our new blog Summer Pests and Pathogens for tips about common issues this month.
You might find some ugly leaves on your veggies and worry that it's a sign of serious disease. Some marks are harmless and some tell you to take action asap. Learn which are which
Late Blight

symptoms might be cropping up this month. Watch for lesions on the leaves and stems of tomato and potato plants. Cool, wet or humid conditions help

blight spread rapidly and

ruin the crop. If this has hit your garden, remove infected plants, bag up the foliage and unripe tomatoes, and dispose of them in the household trash. Do not compost! More about identification and How to Prevent Late Blight in our latest blog post (also seen below).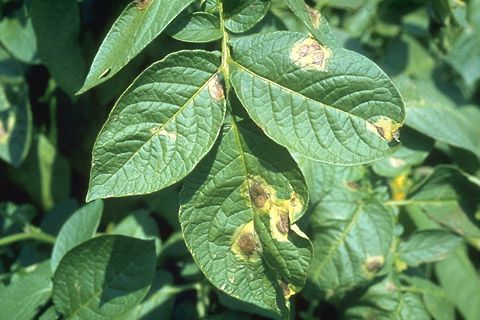 Japanese beetles are here. There's something therapeutic about an early morning stroll to the garden to knock these voracious bugs into a bucket of soapy water. Early mornings are when they're less likely to fly away. This is also a good time to handpick snails from the stems and leaves of our irises and hostas.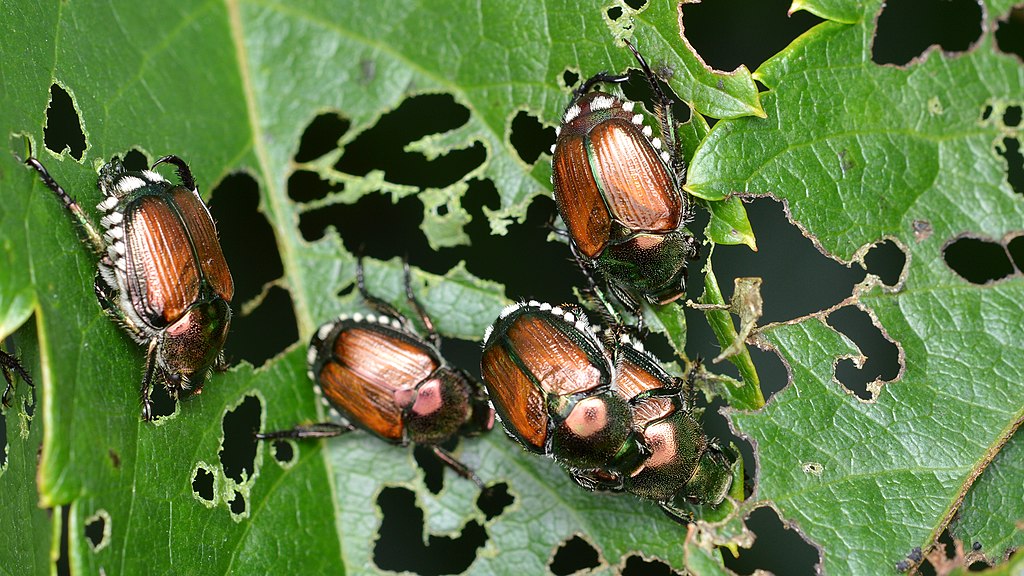 We're working on reducing the gypsy moth infestation in our yards too. This month we're scraping the adult moths and egg masses into soapy water. Each egg mass contains up to 1000 eggs! Look for them on tree trunks, walls, decks, and even under railings.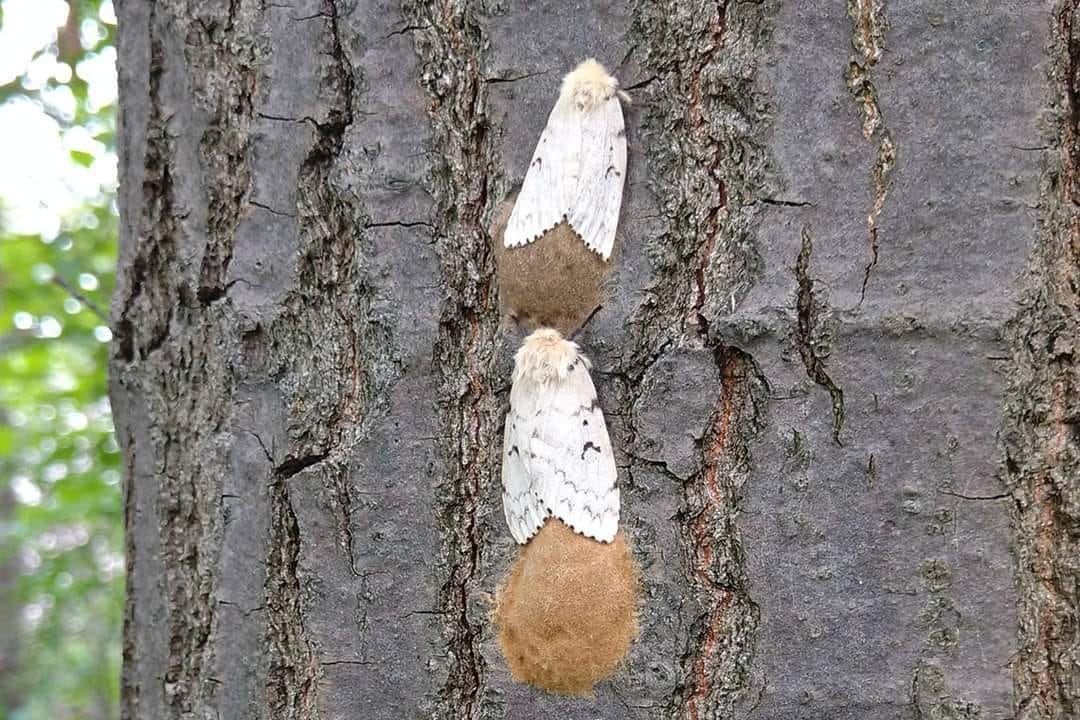 Master Gardener YouTube Videos
These short clips highlight new ideas and demonstrate great growing tips for your garden
Tomato Disease - Late Blight
One tomato disease - Late blight - is responsible for many crop failures. Learn to identify it and rescue what you can. Prevention is key!


Four-lined Plant Bugs - Munching leaves near you!
This little bug damages the leaves of many perennials and shrubs in June. By now it has laid its eggs on the plant stems too. If you had leaf damage, learn what to do this fall.


Summer Pests and Pathogens
Heat and humidity bring summer pests and diseases! Watch for common issues such as Rusts, Leaf Spot, Fireblight, Scale, Aphids, Box Tree Moths, and more.


Inspect for Leek Moths in Garlic
Garlic is usually trouble-free, however, there's a new pest in town. If you've found ragged long holes in your garlic leaves, the Leek Moth is the culprit. Learn what to do!


The Great Gardening Cover Up
Fertilizer is not the secret. If you want to focus on the health of your soil - feed it with Mulch! Learn the benefits of getting off the 'kool-aid'.


St Thomas Elevated Park - free & family-friendly!
Canada's first elevated park - great walking trail, sculptures to see, and an awesome view from a scenic height! Open every day.


Want to Subscribe?
If this was forwarded to you, you may wish to subscribe to our next newsletter.